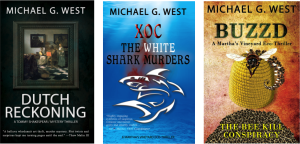 Sepiessa Press began publishing primarily poetry in 1999 in West Tisbury, Massachusetts. A series of poetry broadsides and a limited-edition chapbook of poems, titled To Breathe, written collaboratively by Linda Black and Michael West, appeared in 2005. Just a few years later, in 2009, Sepiessa Press published a chapbook of poems from the first year of the Promising Young Poets program (founded by Michael West and the then West Tisbury poet laureate Fan Ogilvie), with the chapbook edited by Michael West.
Dutch Reckoning, A Tommy Shakespear Mystery Thriller, was the first novel Sepiessa Press published (in September 2013) and is for sale on Amazon both in digital and print formats.
XOC- The White Shark Murders, a Martha's Vineyard Eco-Thriller, was published in November 2013 both in print and in Kindle Digital formats. A second book in the series, BUZZD – The Bee Kill Conspiracy was published in August 2014.
Sepiessa Press books are available at the Bunch of Grapes bookstore, and for those who live off-island, your local bookstore can order it through the Ingram catalog.