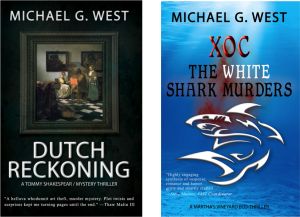 Sepiessa Press began publishing primarily poetry in 1999 in West Tisbury, Massachusetts. A series of poetry broadsides and a limited-edition chapbook of poems, titled To Breathe, written collaboratively by Linda Black and Michael West, appeared in 2005. Just a few years later, in 2009, Sepiessa Press published a chapbook of poems from the first year of the Promising Young Poets program (founded by Michael West and the then West Tisbury poet laureate Fan Ogilvie), with the chapbook edited by Michael West.
Dutch Reckoning, A Tommy Shakespear Mystery Thriller, is the first novel Sepiessa Press has published on Amazon both in digital and print formats.
Next up, XOC- The White Shark Murders, a Martha's Vineyard Eco-Thriller. In the spring of 2013, Sepiessa Press launched XOC as a serial novel by Michael West. Sepiessa Press ran the eighty episodes on the WordPress blog site to coincide with the run up to the vote in the town of Oak Bluffs — whether to require the annual shark tournament convert to a catch-and-release format. The measure carried. Meanwhile, that novel, now titled XOC – The White Shark Murders, is slated for publication both in digital and trade book print formats before Thanksgiving this year.