Misfit Blues
Misfit Blues is Goodbye, Columbus meets The Friends of Eddie Coyle… It's both an ill-fated love story (she's already engaged, he's not quite in her class) and a suspenseful mystery set on Martha's Vineyard in the summer of 1989.
Housepainter Tommy Shakespear, a Golden Gloves boxer and Dartmouth B-school dropout, has to locate and persuade a terrified witness to return to Boston from the Vineyard, where she's been in hiding. She's the only one who can testify to the innocence of her not-so-innocent boyfriend, charged with attempted murder and grievous bodily assault. Meanwhile, a slumlord's hired thugs (who are ex-cops and guilty of the crime) are also trying to track her down to eliminate the problem.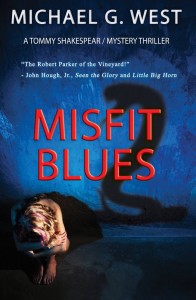 Available  on Amazon in print
and Kindle digital editions
You can click on the image to go
check out the first few chapters 
Dutch Reckoning
Dutch Reckoning is a mystery novel in the vein of Robert B. Parker and John D. MacDonald, featuring an ironic sleuth named Tommy Shakespear.  In this book he tackles the unsolved art theft at the prominent Butler Museum in Boston.
A reluctant sleuth, Tommy Shakespear leaves behind his surfboard and his mountain bike at the request of his old friend, Jack Butler, and travels from Santa Cruz, California to Boston and Barcelona in search of the elusive gang of thieves responsible for the art theft. Shakespear also leaves behind his budding romance with Shiva, a successful video game developer, and ventures a little too close to the heat of his former flame Elaine, as he dodges bullets and bedroom encounters on his way to solving the mystery of "Who did the Butler?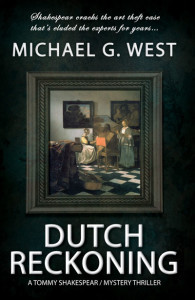 Available  on Amazon in print
and Kindle digital editions
You can click on the image to go
check out the first few chapters 
"A helluva whodunnit art theft, murder mystery.  Plot twists and
surprises kept me turning pages until the end."
— Thaw Malin III, well-known Martha's Vineyard landscape artist