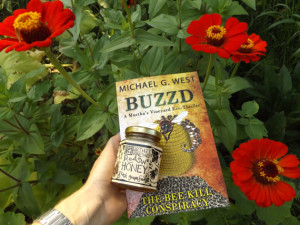 Skye Botanicals has launched a promotion featuring a pink grapefruit honey inspired by BUZZD – The Bee Kill Conspiracy. Here's the behind-the-scenes story.
The night before Islanders Write, Monica Miller of Skye Botanicals messaged me on Facebook, asking if I'd like to give out pink grapefruit honey with BUZZD, as a promotional incentive. Somehow she'd created the most delicious honey anyone has ever tasted. At the Islanders Write event, people sampled the honey, and they immediately ordered the book. Monica Miller is now offering both the book and the boutique honey together as a package from Skye Botanicals on Etsy — and on island at the Chilmark flea on Saturdays and the Oak Bluffs market Sundays. You can't get her Forbidden Pink Grapefruit Honey without BUZZD.
It's not just about books and honey though. We want people to think about bees and what we are doing to the planet's — and our island's — ecology with herbicides, fungicides, pesticides and GMOs. That's why I wrote BUZZD.