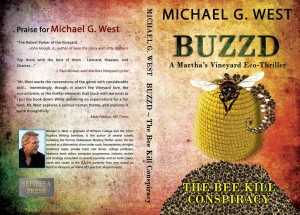 Happy National HoneyBee Day!
8.16.2014 — Just submitted a special price to Kindle for BUZZD – The Bee Kill Conspiracy for National HoneyBee Day. Should go live soon. $0.99 on Kindle.
http://www.amazon.com/dp/B00LTXGAT2
Set in the scenic natural beauty of Martha's Vineyard, BUZZD – The Bee Kill Conspiracy tells the story of corporate greed, mercenary killing and a new agricultural chemical that endangers the island ecosystem. Afghan war vet and special ops marine, Sam Hill uncovers the truth about the death of an EPA official, swarmed by killer bees. Sam finds a single loose thread and pulls on it until he unravels a national conspiracy that could threaten the entire planet.